VWR Traceable Workstation Digital Barometer is a reliable and dependable addition to the VWR Labware & Accessories family of products. Combining top-notch and uncompromising quality with an affordable price, the VWR Traceable Workstation Digital Barometer 4245/ 36934-162 can fulfill your laboratory needs while still offering a great value for the money.
Product Category Description:
Barometer is ideal for recording ambient changes in the lab, monitoring conditions affecting samples analysis, and assisting in the prediction of weather changes. Workstation measures atmospheric pressure, displays temperature and time, and displays barometric trend graphically. The graphic barometric trend shows the current reading as well as the previous 1-, 3-, 6-, and 12-hour readings in a bar chart format. Forecasting indicators show weather conditions for the next 12 hours using symbols for sunny, cloudy, rainy, and partly cloudy. Clock shows time in a.m./p.m. or 24-hour format.
A serial numbered certificate is provided from an ISO 17025 calibration laboratory accredited by A2LA to indicate instrument traceablilty to standards provided by the National Institute of Standards and Technology.
Ordering Information: Supplied with two AAA batteries.
---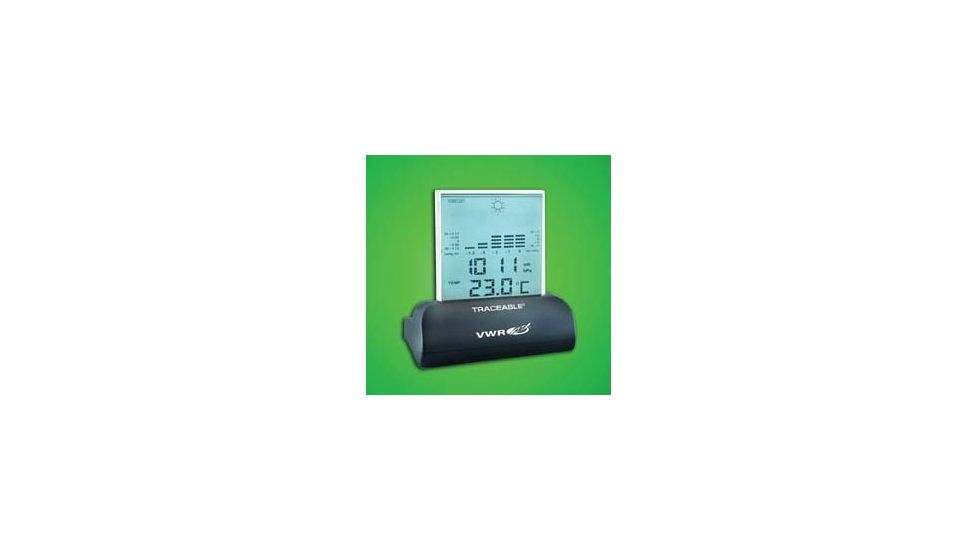 VWR Traceable Workstation Digital Barometer 4245
RATING
93.25 /100
Design

Excellent

Performance

Excellent

Value for money

Excellent

Feature

Excellent
Specifications for VWR Traceable Workstation Digital Barometer 4245 :
Description: 
VWR BAROMETER DIGITAL NIST
Barometric Pressure Range: 
800–1050 mbar (23.62–31.01 in. Hg), selectable
Barometric Resolution: 
1 mbar (0.03 in. Hg)
Barometric Accuracy: 
±12 mbar (±0.4 in. Hg) from 900 to 1050 mbar
Temperature Range: 
–9.5 to 70°C (15 to 158°F)
Temperature Resolution: 
0.5°
Temperature Accuracy: 
±1°C (0 to 50°C)
Altitude Compensation: 
–300 to 1200 m (–900 to 3600 ft.)
Dimensions: 
10.2W x 5.7D x 10.2H cm (4 x 21/4 x 4")
Weight: 
113.4 g (4 oz.)
---
---